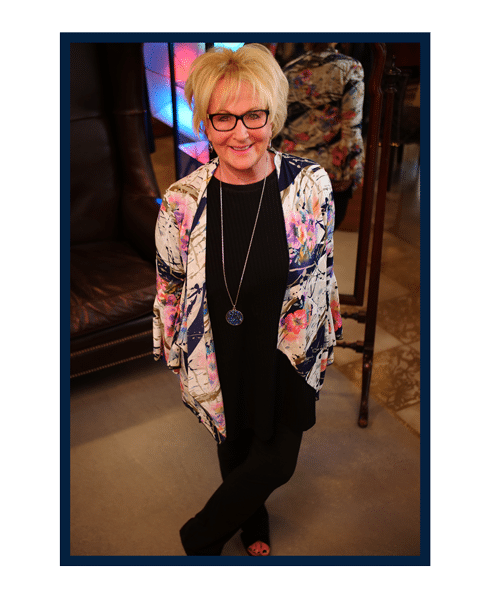 Carolyn Gross calls Chaos the Great Teacher! Her expertise addresses the Global Shuffle from the Pandemic, that has redirected all our lives.
As an Award Winning Speaker, Author and Reinvention Strategist, she has been seen on NBC, ABC and Lifetime TV.
In her Keynote and Virtual Presentations, Breakout Sessions and Retreats, she presents strategies to offset the adverse reactions from intensive-immediate crisis to long-term stress conditions.
Carolyn helps companies, associations and executives redefine their business as un-usual approach to rising above the chaos and lead the way. Through Keynote Speaking and Blue Print Intensive Coaching, she has worked with Global Executives, Celebrities, and Medical Experts for over two decades. Her chaos ninja approach inspires as she weaves stories, entertainment and motivation to reset mindset and restore confidence with solutions designed for these uncertain times.
Chaotic work environments and industries need support now to minimize the overwhelm that produces poor performance, low morale, and workplace negativity. From her front-line experience in business leadership and medical realms, she will help your audience use their setbacks as a springboard to RISE UP and gravitate to health.
Her keynote speaking has addressed a wide range of professionals in healthcare, luxury hotels & spas, real estate, insurance, finance companies, women's health. leadership and business associations, various branches of military & government, as well as the beauty and fitness industry.
Her Credentials include four books titled Rise Above the Chaos: How to Keep Positive in an Unsettled World, Treatable & Beatable: Healing Cancer without Surgery, Breaking the Cancer Code and Staying Calm in the Midst of Chaos, and CD Set for Leaders Managing Chaos with Confidence. Certifications in the Color Code and Decoding the Colors of Leadership, as well as Time Management Training for Day-Timer. She is a Past President of the National Speakers Association in San Diego and worked in Medical Realms as a Patient Advocate for over a decade.
In her latest book, Rise Above The Chaos, she offers 25 years of research with masterful strategies for all areas of fitness: work-place, health-place and home-place strategies.
She has personally navigated unexpected loss from a family spinal cord injury to her own diagnosis of stage 3 cancer (20 Year Survivor). Her work with cancer patients and her own Chaos Ninja cancer recovery inspires people to make informed decisions about their health and the power of a dynamic mindset.
She teaches others how to overcome critical events and instills reservoirs of strength to support your organization. Her programs offer solutions to successfully direct people to re-define their lives with solutions to prevent overwhelm and purposefully move forward.
"I've had the pleasure of working with Carolyn for several years on team-building at the executive level. I highly recommend her to organizations looking to minimize the impact of chaos with her unique building blocks for team-building and leadership success."
Vice President of Global Sales and Markting, Mandarin Oriental Hotel Group
"As our closing keynote speaker, Carolyn gave us the perfect wrap up for our Annual Association of Natural Health Conference. Not only did she prepare a customized closing program, she interacted and spent time with our attendees before and after the event."
Event Coordinator and Publicity Director, Association of Natural Health
"Carolyn's professionalism and informative presentation was a highlight of this event. The audience will no doubt use the tools you provided to help them manage chaos with confidence and better deal with adversities that come their way."
Vice President of Education, Coldwell Banker International